Allegheny 6 Person Cabin Sauna
Product Overview
The Allegheny was designed with retreat in mind. The cabin design includes a front porch, perfect for your post-sauna furniture. The sloped roof makes it perfect for all weather, and adds a spacious feel to the interior with high ceilings. The sauna room has two bench levels. If you prefer high heat, you can lounge on the top or move to the bottom bench for a cooler sauna experience. The sauna room can be paired with either a Harvia 8kW electric heater or a wood-burning stove. Both are designed to heat the space up to around 180ºF, and the electric heater has a delay function up to eight hours! The sauna has space to accommodate up to six people. With the Allegheny, you'll be hosting sauna parties in no time in this cabin sauna. No roofing shingles material will be included.
Please note, due to its size, this unit ships via flatbed. Please review the Flatbed Shipping Policy to ensure you are prepared for your sauna's arrival!
Hemfir
Hemfir is lighter in color with small tight knots that give its rustic appearance. Rustic Fir is our most popular lumber for indoor saunas and is also ideal for exterior applications. The exterior of the sauna can be left natural or stained or painted as desired. This lumber is sourced from North America.
Features
Lumber
Lumber thickness 1 & 1/2"
Glass
Door with tempered glass window
Hardware
Stainless steel hinges, heater, and fasteners
Specifications
Holds up to six people

Standard heater: 8kW, 240V, 40-amp electrical requirement, hardwire connect

Heater upgrades available: Virta electric heater, PRO20 wood-burning heater, and Legend wood-burning heater

Exterior dimensions: 86″W x 125″D x 99″H

Interior sauna room dimensions: 75″W x 75″D x 84″H

Lower bench dimensions: 75″L x 19″W

Upper bench dimensions: 75″L x 24″W

Door dimensions: 32″W x 70″H

Porch dimensions: 86″W x 39″D

Assembled weight: 1,975 lbs.

Shipping dimensions: 103″L x 46″W x 35″H

Shipping weight: 2,125 lbs.

Note: All dimensions are approximate
Shipping
The Allegheny will ship via flatbed.
Care & Maintenance
Traditional saunas require very little upkeep. Simply wipe down the interior after each use and check for any dust or debris that you may have tracked in. Read more about long-term care and maintenance here.
FAQs
I don't have a use for the front porch. What should I do?
Thankfully this sauna comes with an optional porch, you will not need to install it if you don't want to!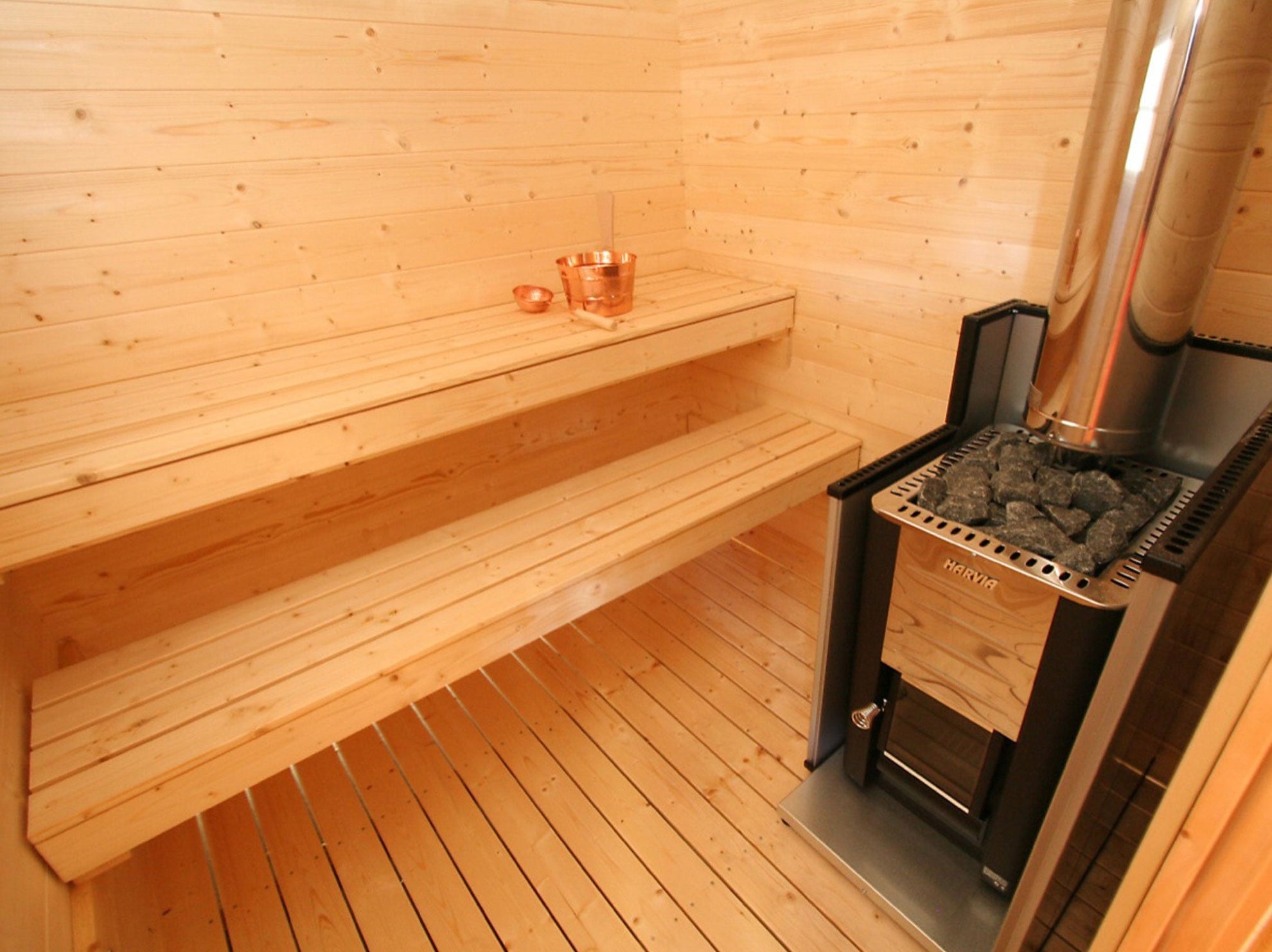 CUSTOMER PHOTOS