Product Overview
Either you are tall, you like a lot of room, or both. No matter your reason, the Princeton fits the bill! At eight feet long, the Princeton has the largest interior of our barrel sauna rooms. Measuring 6'x8', it has enough space to let you stretch out or invite some friends over. The Harvia 8kW electric heater fires the room up to 180ºF in an hour. You can also delay the start time up to eight hours; your choice. Bring the Finnish tradition to your backyard with the Princeton barrel sauna!
Please note, due to its size, this unit ships via flatbed. Please review the Flatbed Shipping Policy to ensure you are prepared for your sauna's arrival!
Hemfir
Hemfir is lighter in color with small tight knots that give its rustic appearance. Rustic Fir is our most popular lumber for indoor saunas and is also ideal for exterior applications. The exterior of the sauna can be left natural or stained or painted as desired. This lumber is sourced from North America.
Features
Lumber
Ball-and-socket lumber: 1-3/8″ thick
Glass
Any glass features are tempered
Hardware
Stainless steel bands, hinges, and fasteners
Lighting
Interior LED light
Accessories
Sauna stones included
Specifications
Holds up to six people

Heater size: 8kW, 240V, 40-amp requirement, hardwire connect

Lighting electrical: 110V, 15-amp service, plug-in connect
Assembled size: 72″W x 95″D x 75 - 3/8″H

Interior room size: 71″W x 87″D x 69 - 1/8″H

Bench dimensions: 18″W x 87″L x 17″H
Shipping
The Princeton will ship via an LTL truck.
Shipping Dimensions:
Shipping weight: 875 lbs

Shipping size: 96″L x 41″W x 52″H

Note: All dimensions are approximate
Care & Maintenance
Traditional saunas require very little upkeep. Simply wipe down the interior after each use and check for any dust or debris that you may have tracked in. Read more about long-term care and maintenance here.
FAQs
Does this unit ship via flatbed carrier?
Yes, it does. The Princeton is 8' long and cannot be offloaded with a liftgate. As such, it requires specialized shipping. Please refer to our flatbed policy for more information on this.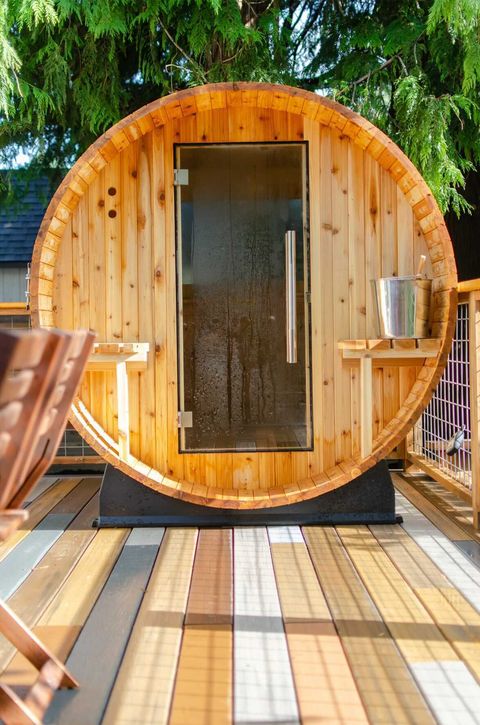 Feel the Heat in a Classic Barrel Sauna
We first started making our signature Barrel Sauna nearly 40 years ago, and it's become a popular option on our product line ever since. The Barrel Sauna is assembled using a ball-and-socket profile held in place by stainless steel bands and minimal fasteners, the significance of this configuration being that it maintains a reliable seal while allowing the lumber to expand and contract. The entire unit is mounted on polymer support cradles that loft the undercarriage of the sauna and keep it from coming in direct contact with any moisture on the ground.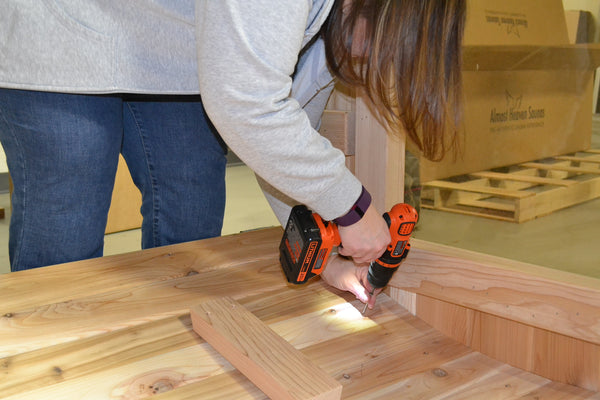 Build the Princeton
The simple grace of a barrel-shaped sauna is found in its ball-and-socket profile, held in place by sturdy stainless-steel bands and minimal fasteners. This arrangement allows the lumber staves to expand and contract to form a tight seal, and the unit sits on polymer support cradles that lift the sauna undercarriage off the ground. The Classic Barrel Sauna is an expressive take on our Classic Barrel Sauna – a design noted for its efficiency, even distribution of heat, and visual appeal. By taking the front round section and setting it back into the sauna, we've created a visually appealing and useful outside sitting area – a place to hold towels or drinks or to serve as a relaxing place to cool off between sauna rounds.




To view the longer installation video click here.
CUSTOMER PHOTOS